Course Introduction: Industrial Electrician
Welcome to the Industrial Electrician course! In this comprehensive training program, you will immerse yourself in the world of industrial electrical systems and gain the essential skills and expertise required to handle complex electrical installations, maintenance, and troubleshooting within industrial settings.
Course Overview: The Industrial Electrician course is designed to cater to both aspiring electricians with some background in electrical work and experienced professionals seeking to specialize in industrial electrical systems. Throughout the course, you will be introduced to the critical components, technologies, and safety practices involved in industrial electrical work.
Key Learning Objectives:
Electrical Theory and Concepts: Refresh and deepen your knowledge of electrical principles, circuits, and components, and their specific applications in industrial settings.

Industrial Electrical Systems: Explore the design, installation, and maintenance of industrial electrical systems, including power distribution, motor control centers (MCC), and industrial control panels.

Motor Control: Learn about motor starters, motor control circuits, and variable frequency drives (VFDs) used to regulate the speed and operation of industrial motors.

Programmable Logic Controllers (PLCs): Understand the functionality and programming of PLCs, which play a crucial role in automating industrial processes.

Electrical Drawings and Schematics: Interpret electrical drawings, blueprints, and schematics commonly used in industrial settings for troubleshooting and installation purposes.

Electrical Safety in Industrial Environments: Emphasize safety protocols specific to industrial settings, including lockout/tagout procedures, arc flash safety, and working in hazardous environments.

Electrical Troubleshooting: Develop advanced troubleshooting skills to identify and resolve complex electrical issues in industrial equipment and systems.

Industrial Automation: Explore the integration of sensors, actuators, and automated systems to enhance efficiency and productivity in industrial processes.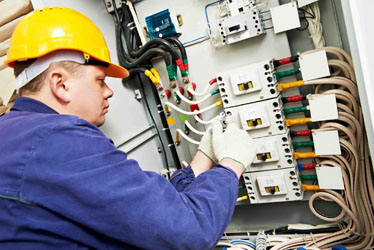 Fees and Eligibility :
DEPEND ON COURSE
Eligibility:-As per course requirement
Documents Required :
Educational Documents ( Attested )
Two Copies of the Computerized National Identity Card (CNIC)
Two Recent Passport Size Color Photographs
Original Bank Deposit Slip