Course Introduction: Freelancing Course
Welcome to the Freelancing course! In this comprehensive training program, you will explore the exciting world of freelancing and gain the essential skills and knowledge required to become a successful freelancer. Freelancing offers a unique opportunity to work independently, manage your own schedule, and showcase your expertise to clients worldwide across various industries and disciplines.
Course Overview: The Freelancing course is designed to cater to individuals interested in building a freelance career and those aspiring to thrive in the freelancing marketplace. Throughout the course, you will learn about key freelancing practices, strategies, and how to establish yourself as a proficient and sought-after freelancer.
Key Learning Objectives:
Introduction to Freelancing: Familiarize yourself with the freelancing ecosystem, the benefits and challenges of freelancing, and how to position yourself in the freelance market.

Navigating Freelancing Platforms: Learn about popular freelancing platforms, how to create an appealing freelancer profile, and how to bid on and win projects.

Client Communication and Management: Develop effective communication skills to interact with clients, understand project requirements, and deliver high-quality work.

Pricing and Contracts: Understand pricing strategies for freelance services, negotiate rates, and create clear and professional contracts.

Time and Project Management: Gain skills in time management and project organization to meet deadlines and exceed client expectations.

Building a Strong Portfolio: Learn how to build an impressive portfolio showcasing your skills, past work, and achievements to attract potential clients.

Marketing Your Freelance Services: Discover effective marketing strategies to promote your freelance services, build a network, and attract long-term clients.

Handling Finances and Invoicing: Understand financial management for freelancers, including invoicing, taxation, and managing payments.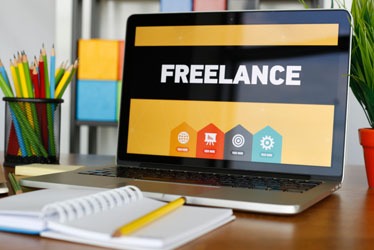 Fees and Eligibility :
DEPEND ON COURSE
Eligibility:-As per course requirement
Documents Required :
Educational Documents ( Attested )
Two Copies of the Computerized National Identity Card (CNIC)
Two Recent Passport Size Color Photographs
Original Bank Deposit Slip