Diploma in Facial Carving
Course Introduction: Diploma in Facial Carving
Welcome to the Diploma in Facial Carving course! In this specialized training program, you will explore the intricate art of facial carving and gain the essential skills and knowledge required to become a proficient facial carving artist. Facial carving is a unique form of artistic expression that involves creating detailed and lifelike facial features on various mediums.
Course Overview: The Diploma in Facial Carving course is designed to cater to individuals interested in fine arts, sculpture, and those aspiring to develop their facial carving skills. Whether you are a beginner or have some prior experience in sculpting, this course will provide you with a strong foundation and opportunities to explore various facial carving techniques and styles.
Key Learning Objectives:
Introduction to Facial Carving: Familiarize yourself with the significance of facial carving, its historical context, and its role in artistic expression.

Facial Anatomy: Study facial anatomy and proportions to understand the underlying structure of facial features.

Carving Tools and Materials: Learn about the essential carving tools, such as chisels, gouges, and carving medium, and how to use them effectively.

Facial Sculpting Techniques: Practice various facial carving techniques, including relief carving, three-dimensional sculpting, and adding intricate details.

Expressions and Emotions: Explore the art of capturing facial expressions and emotions in your carvings.

Sculpting Portraits: Learn how to create lifelike portraits through facial carving, paying attention to facial characteristics and individuality.

Carving on Different Mediums: Experiment with carving on various mediums, such as wood, stone, clay, or other materials.

Portfolio Development: Learn how to curate and present your facial carving works effectively, building a professional portfolio.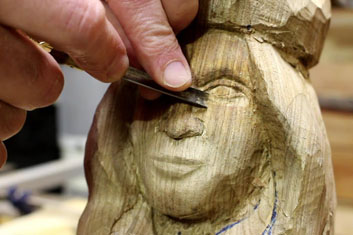 Fees and Eligibility :
DEPEND ON COURSE
Eligibility:-As per course requirement
Documents Required :
Educational Documents ( Attested )
Two Copies of the Computerized National Identity Card (CNIC)
Two Recent Passport Size Color Photographs
Original Bank Deposit Slip