Diploma in Arabic Teaching Course
Course Introduction: Diploma in Arabic Teaching Course
Welcome to the Diploma in Arabic Teaching Course! In this comprehensive training program, you will immerse yourself in the Arabic language and gain the essential skills and knowledge required to become a proficient Arabic language teacher. Arabic is a beautiful and rich language spoken by millions of people around the world, and as an Arabic teacher, you will play a vital role in spreading its knowledge and cultural significance.
Course Overview: The Diploma in Arabic Teaching Course is designed to cater to individuals interested in Arabic language education, linguistics, and those aspiring to pursue a career as an Arabic language teacher. Whether you are a native Arabic speaker or a non-native learner, this course will equip you with the expertise to teach Arabic effectively to diverse learners.
Key Learning Objectives:
Introduction to Arabic Language Teaching: Familiarize yourself with the significance of teaching Arabic, its cultural importance, and the role of language in connecting communities.

Arabic Language Structure: Study Arabic language grammar, phonetics, and syntax to understand the structure of the language.

Arabic Vocabulary and Expressions: Learn essential Arabic vocabulary, expressions, and common phrases used in daily communication.

Arabic Writing and Script: Explore the Arabic writing system, including the alphabet, script direction, and calligraphy.

Arabic Language Proficiency Levels: Understand the different levels of Arabic language proficiency and how to tailor your teaching approach to learners' needs.

Arabic Language Teaching Strategies: Explore effective teaching strategies, lesson planning, and classroom management techniques for Arabic language learners.

Cultural Aspects and Communication: Study cultural aspects related to the Arabic language and how to integrate cultural elements into language teaching.

Assessment and Feedback: Learn about assessment methods for Arabic language learners and how to provide constructive feedback.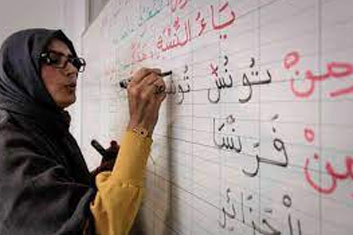 Fees and Eligibility :
DEPEND ON COURSE
Eligibility:-As per course requirement
Documents Required :
Educational Documents ( Attested )
Two Copies of the Computerized National Identity Card (CNIC)
Two Recent Passport Size Color Photographs
Original Bank Deposit Slip